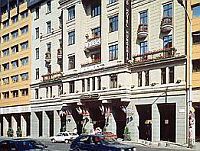 ✔️ Hotel Hungaria City Center
1074 Budapest, Rákóczi út 90.
Phone: 00-36-1-2279614
Hotel video
Hotel Hungaria City Center Budapest, a modern hotel with centennial tradition, Hungary's largest hotel, provides the comfort of home with professional services to tourists, business travellers and conference participants, as well. The four-star Danubius hotel has excellent public transport connections. All air-conditioned rooms are equipped with Internet access. The hotel's conference centre offers 12 air-conditioned function rooms with a wide range of services for businessmen and conference guests.