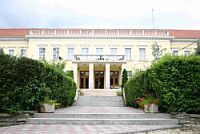 ✔️ Hotel Regina
1223 Budapest, Művelődés u. 21-27.
Phone: 00-36-1-2279614
Hotel video
The 3-star hotel Regina is situated in Southern Budapest, in Budatétény surrounded by a 1.5 hectare large green park. Hotel Regina has a private, secured car park and a big conference hall, equipped with the most up-to-date light and sound technique. Budapest accommodations hotels. Budapest cheap hotels. 3-star hotels with online booking.