✔️ Anna Hotel*** Budapest ***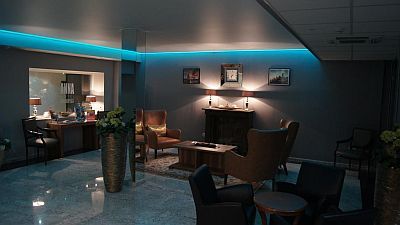 Anna Hotel Budapest *** - Affordable Hotels in Budapest

In the XI.district, the hotel Located in an idyllic setting in the capital city, one of the newest hotels in the capital, the three-star Anna Hotel Budapest.
Built it in green parkland just a few minutes away from the teeming capital, the Hotel is an excellent choice for those who wants to relax.
The ideal location allows easy access to the capital, just a few minutes walk from the Kelenföld train station, the metro and several tram stops.
Clean, modern interiors and elegantly furnished rooms gives the exclusive ambiance of the hotel.

Rooms:
There are 48 rooms in total, each with a minibar, LCD TV, practical unique wardrobe, desk and air-conditioned.
Apartment:
There is one apartment in the building. it can accommodate 4 persons.
Free high-speed wifi available in all public areas and rooms.

Restaurant:
The restaurant of the Anna Hotel offering traditional Hungarian foods and the specialities of the international cuisine as well.
The Baumgartner family delivery the exclusive mangalica's meat from their own farm.
The restaurant's own bar offers special wines and hungarian pálinka's choices, as well as craft beers.

Access:
At the end of the Bartók Béla út, in Buda, it is easily accessible by public transport and by car. Trams number 19 and number 49 are 3 minutes away by walk, while the Kelenföld train station is less than a 10-minute walk away.
For guests arriving by car, the hotel has its own limited number of parking spaces.