✔️ Novotel Budapest Danube ****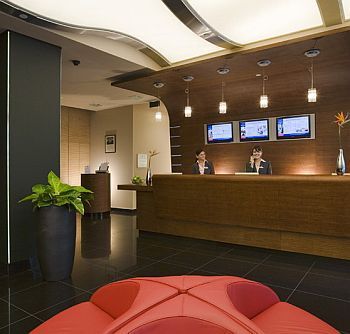 Novotel Budapest Danube **** 4-star Accor hotel Budapest
The brand new 4-star Novotel Budapest Danube is located on the Buda side of the city, between Margaret Bridge and Chain Bridge overlooking the Danube and the Parliament. Novotel Danube is located within 10 minutes walk of the world heritage listed Buda Castle and the downtown pedestrian shopping area.
The hotel services, following the expectations of our age, are suitable for satisfying the requirements of different groups of tourists.
The 175 Novation rooms of Novotel Budapest Danube provide modern comfort, a unique feeling of spaciousness and contemporary decor. The rooms have air conditioning, on-demand pay TV, flat screen TV, telephone, radio, minibar, tea/coffee making facilities, bathroom (with bath tube, hair dryer), toilet, magnetic door and safe deposit box in room.
The lobby bar offers not only a pleasant relaxing but also help in the daily work: bluetooth printer and digital photo-printer are available for the guests. Smoke alarm and sprinkler system guarantee the safety in all areas of the hotel.
The air conditioned Cafe Danube restaurant, opening 12:00 - 24:00 hours, offers international cuisine and wide selection of wines. Meals are available 24 hours a day, either in the restaurant or the bar (opening 8:00 - 00:00) depending on the time of day.
Hotel Novotel Danube is the first hotel in Hungary where the guests can use a fitness room with Club Med Gym. The hotel guests can benefit from the numerous relaxation and fitness exercises, the friendly gym and sauna.
Novotel Budapest Danube features 3 air conditioned meeting rooms for a maximum of 150 people. The hotel is ideal venue of small and medium programmes. All 3 rooms have natural lighting and ergonomic furniture.
Besides the wide range of hotel services, we offer special services for our guests: Internet connection free of charge (DSL), WiFi in all areas of the house, Dynamic Signage information system (market news, weather forecast, airport information), fresh fruits in the lobby, Good Morning News - in 9 editions, in 8 languages, upgraded set-ups in the Danube side rooms, Danube Assistance Programme for handicapped people and Braille hotel information / restaurant menus.

The hotel is 100% non-smoking, smoking is forbidden on the whole territory of the hotel, including the common areas, the terraces and the rooms.

Other hotels in Budapest operated by the management